January Newsletter
https://createsend.com/t/r-8032158E30D37A102540EF23F30FEDED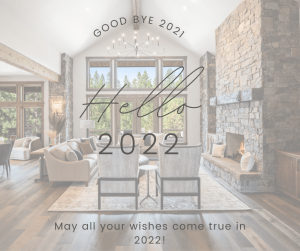 Rosenberger Construction Awarded People's Choice for 2021-2022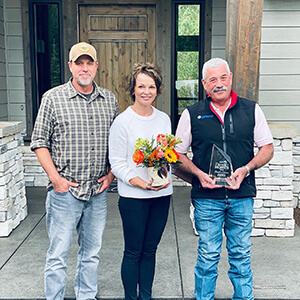 Rosenberger Construction was awarded the 2021-2022 Parade of Homes, "People's Choice" award. Thank you to all who voted for us.
ROSENBERGER CONSTRUCTION AWARDED BEST RESIDENTIAL BUILDER FOR 2016 AND 2015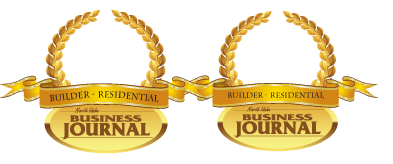 Thank you to all of our great customers for your vote of confidence in the BEST OF 2016 contest. It is an honor to achieve this distinction and especially to receive it two years in a row!
IT IS THAT TIME OF YEAR TO WINTERIZE YOUR NEW HOME.
As the temperatures begin to drop, follow these tips to insure your home is protected.
HOSE BIBS
The new hose bibs we install on our homes are frost free. Please turn them off GENTLY after each use throughout the year. It is normal for water to drip from these faucets for a minute or two as they drain. Do not continue to tighten them. Also turn your hose bib off after each use. The continuous water pressure from a hose left on and connected to your hose bib will result in damage over time. And now that cold temperatures have arrived, a hose attached to any hose bib will cause freezing and permanent damage.
RAINGUTTER RX
Keep your raingutters free of debris. The fall leaf and needle drop means your gutters are likely full. Even if you have debris guards or shields, checking to insure that all of this material is cleaned out before heavy rains and snowfall happen will help to eliminate gutter and fascia damage from clogged raingutters.
FOUNDATION VENTS
Now is the time to close all of those foundation vents you opened last spring. Protect your plumbing by checking and closing foundation vents every fall.
DID YOU KNOW?
Many clients have their homes treated for spiders and insects in the fall. If you have Concrete sealer on your garage floor, check with your pest control expert to insure they do not spray liquid pest control products on the sealed concrete surfaces at the base of your garage doors. This liquid will contaminate the sealer causing a gummy mess that adheres to and damages the rubber base of overhead garage doors requiring the removal of the sealer and the replacement of the rubber base.
"JUST SAY NO" to Deicers!
Despite the safety claims on those bags of deicer products you can buy, do not use them on your exterior concrete. These products will cause unsightly pitting, flaking and chipping of the concrete surface. Traction sand is a better alternative.
ROSENBERGER CONSTRUCTION IN MODERN HOME BUILDER
Rosenberger Construction was just featured in the Spring/Summer edition of Modern Home Builder.
NEW FEATURED HOME
Customer's Pat and Bev Tebo had their beautiful new Rosenberger Home featured in "Inside Hayden Lake (pdf download)". Their dramatic kitchen soffit was just one of the custom design elements they talk about with publication director, Matt Laughlin. Download and Read their story. (pdf download)
HOW DOES RON KEEP BUSY AFTER WORK?
As a busy custom home builder, Ron doesn't have a lot of time to recreate but he does enjoy his second job. Check out Nspire Magazine and find out what he does after work! The article is on pages 64-67.
A DRAMATIC ENTRANCE, FOR A BEAUTIFUL HOME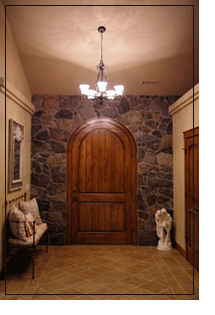 A beautiful arched alder door in a real stone surround makes a dramatic entrance to this beautiful new custom home we finished for some special clients and friends in Hayden. With a storied family history of skillful masons, real stone was an important design element to these customers.
OUR FEATURED HOME IN CDA MAGAZINE
Find our ad in CDA Magazine featuring a beautiful custom home on Hayden Lake.
HOW MUCH DOES IT COST PER SQUARE FOOT TO BUILD A NEW HOME?
I can almost guarantee that this will be one of the first questions a builder is asked by a potential customer, and while it might seem to be a reasonable question to most, the answer you get can often be misleading for several reasons.
Using square footage prices to compare one home against another does have value if you are comparing the same size and configuration in the same neighborhood. It is nearly useless if you are comparing a smaller home to a larger home or a rancher to a two-story. For example, a 2000 sq ft rancher will always cost more per square foot to build than a 4000 sq ft rancher. Both homes will have similar costs for kitchens and bathrooms which are typically the most expensive rooms in a home. The larger home likely will have more expansive living spaces with added footage in the great room and bedrooms. This increased square footage is in the least expensive areas of the home so as the square footage in these areas increases, cost per square foot decreases.
A two-story is less expensive to build per square foot than a rancher because the two levels of living space share one foundation and one roof. Like kitchens and bathrooms, foundations and roofing trusses and material are some of the bigger costs in home construction. A two-story compared to a rancher with the exact same square footage will definitely be less per square foot to build.
Exterior and interior finishes are additional variables in cost per square foot calculations. One home with extra exterior detail, granite kitchen countertops, a full masonry fireplace and full tile walk in showers will be more per square foot than a home exactly the same size and with the same configuration but with a simple exterior and few if any upgraded interior amenities.
Finally, the location of the home is another major variable. A home in one neighborhood may be more expensive than the same home in another area due to city impact fees, building permit fees, utility hook ups or CC&R requirements.
When estimating the value of a new project or selecting a company to build with, you need to account for factors like style, location and finishes. While price per square foot can be a consideration in your final decision, it is at best, a rough gauge.